VR session hosted for European partners as part of Accelerate, Chelsea College of Arts | Photographer: Alexandra Rodriguez Cifre
Digital and Technology is a large, vibrant department with lots going on
About Digital and Technology
Digital is at the heart of all our lives, and the mission of our new Digital & Technology group is to deliver fantastic digital services for our students and staff that enable them to grow and excel. We're doing this by building teams that bring together the skills, practice, culture and technologies of the internet age.
Transforming the student and staff experience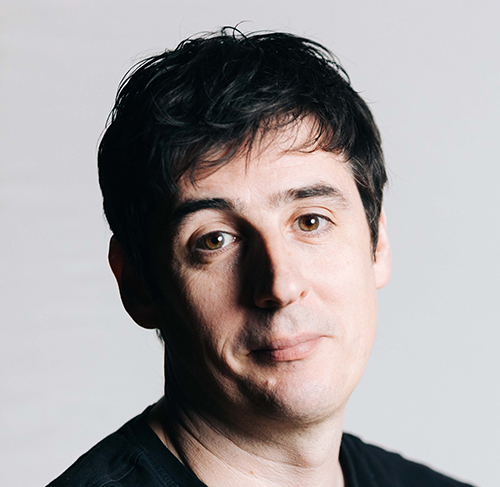 Chris Condron
Chief Digital Officer
Our technology has historically been structured around providing IT support and project delivery, rather than ongoing product and service development. We are changing this. We are pivoting from a 'classic' IT approach to a more digital approach to technology, to one that invests in the people and processes enabled by digital.
We have taken the first step in our transition by re-organising our work into services and are starting to move from being a supplier to the organisation to a partner. Thinking about services enables us to have a longer-term, strategic, and transparent approach to what we prioritise, fund, develop and deliver to meet UAL's needs.
We are also moving from a system or technology-first approach to building the design, development and delivery of our service around users and their needs.
We are building the capability, capacity, and culture to work at pace, building our teams around our digital services.
We have much to do and we have ambition, scale, and a great environment.
If you'd like to be part of our journey to take one of the world's great creative organisations into the digital age through the services we deliver and the culture we build together, then we would love to hear from you.
Our three strategic groups:
Technology Services
Includes digital services across Networks, Telephony, Hosting, Storage, Cybersecurity, Identity, Audio Visual, Collaboration Platforms, User Support, Computers, Software, and Printing
University and Corporate
Includes digital services across Registry, HR, Finance, Estates, Health & Safety, Academic Enterprise, Awarding Body, Research, Knowledge Exchange, and Customer Relationship Management.
Student Experience
Includes digital services across Teaching and Learning, Library, Archives, Digital Channels, Student Support & Wellbeing, and Timetabling.
We will also be building a cross-departmental architecture and a service design capability.
Digital and Technology jobs
There are currently no roles available within Digital and Technology. Please register for job alerts to be kept informed of future opportunities or explore our other opportunities across UAL.
Departments, Teams and People
VR session hosted for European partners as part of Accelerate, Chelsea College of Arts | Photographer: Alexandra Rodriguez Cifre
Students and staff working in Central St. Martins library | Ana Blumenkron
Working Video Stills - Animation | Credit: Alexandra Kostyuk
Working Video Stills - Animation | Credit: Alexandra Kostyuk
Find out more
Models by Jaz Martell | Photographer: Alys Tomlinson
Candy floss at Staff Summer Party, Chelsea College of Arts | Copyright: University of the Arts London
UAL Treasure Hunt | Photographer: Jieying Shao